You're here : Cubase >Fiat Lux !

---
Some chat on the Cubasemidi Mailing List :
Question : wìth VST, can someone trigger punch in with a pedal, like with good ol' multi-track recorders ?
Answer: well, first you'd need a pedal that'd be a midi controller, and then there may be a way to assign that controller to the "Record" event for a value and the "Play" event for another value with Cubase's remote control option. Since I'm not familiar with this feature, I may be wrong but that'd be where I'd start?
---
And it works ! For those interested :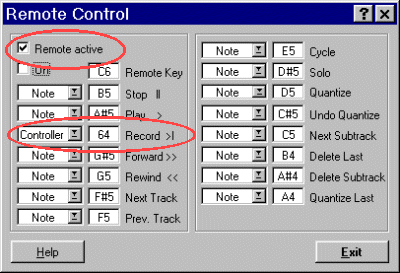 Plug an expression (or sustain) pedal into a synth hooked to the comp via midi

In VST, go to menu Options / Remote Control

In the "Record" window, display "Controller" and nbr 64 (sustain controller on my synth, but check out the manual of your equipment)

Start your song, and hit once to puch in and again to punch out.
Thanks to Serial P., thanks to Denis, happy music to everyone !
Bruno & Coda, on the 12-06-2000
---

Page viewed 7071 times