You're here : Midi >Fiat lux !

---
If you ever tell me you never, really never, tried to read an Atari floppy disk on your PC, the one you?ve kept with all those future Number 1 Hits, I?d answer ?liar?. And of course, you kept the floppies but not the Atari.
Seriously now, there is not a single week on mailing lists without receiving the same question again and again : ?I?ve tried several emulators and none seem to work !? But someone, someday, gave us a super address where we?ve picked up the program we?re dealing with today.
---
So, there it is. The program is called ST2DOS and is indeed able to read some of the Atari?s formatted diskets. In my own experience, I?ve managed to recover Cubase 2.0 files on blue floppies, but couldn?t make it work on 720K formatted brown ones. Any way, fair enough, and I?m sure I?m gonna make some of you quite happy...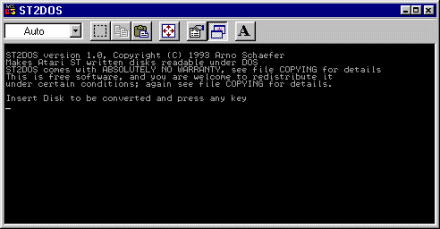 To make it work, no need to be a computer wizard, you just start the program, press a key, and there it is, it works?or it doesn?t !
As said in the documentation file, it?s a freeware, and you can distribute it freely. The only thing asked by the author is that all files made by using the program can be accessible, which we?ll do... Ok, let?s download it !
Pascal VALENTIN, on the 01-06-2002
---

Page viewed 11801 times