You're here : Midi >Fiat lux !

---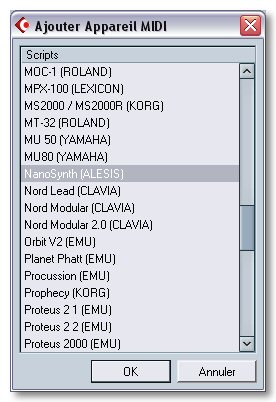 Cubase SX is bundled with some PatchNames for the most recent and common devices. But those which are missing are numerous, so the search for the PatchName of a synth or another has become usual.
<>Some Cubasians are more courageous than others, and put their hands in the engine to make their own PatchNames. As these courageous people are also generous, they decided to give you their PatchNames!
---
Installation
Two cases: the stuff is in the *.txt format, and you just have to place it in :
C:\Documents and Settings\User\Application Data\Steinberg\Cubase SX\Scripts\Patchnames.
It will then appear in the Midi Device Manager if you click on the "Install Device" option. The second case is that it is given in the *.xml format, and in this case, you have to import it with the "Import Setup" function.
---
Of course, you can propose us your own Patchnames, they will be added to this page. How to do? Easy, send us a simple email with your file...
---
PatchNames classified by device
Simply click on the links to download the files from our server...
Pascal VALENTIN, on the 02-10-2003
---

Page viewed 17874 times