You're here : Cubase >Fiat Lux !

---
Somme of you raised in several instances the issue of editing Cubase audio files in Wavelab, saying this works erratically and not for every user.
On my system it always worked fine until today: in Cubase, I double-click a wave file and normally I should find it opened in Wavelab, but today? nothing? This launches Wavelab, but doesn't open the file into it. Given that it always had worked, even with Wavelab 3.01, I set myself to look for what might have changed on my PC? Nothing.
After several minutes, it came across my mind that I had used French-language symbols (ç and à) in the folder's name where my files where sitting. I reverted to non-accented letters and? now it works again !
For the communication between Cubase and Wavelab to properly operate keep away from accents and non-standard symbols or punctuation in folders' and wave files' names. I tried various sets of symbols. The safest is to only used letters, numbers and space. If you want to rename wav files in Cubase, that can be done using an hexadecimal editor, so that the same name is used throughout the whole program, including segments' names. I hope this will help those having trouble interfacing Cubase and Wavelab.
---
Now with pictures !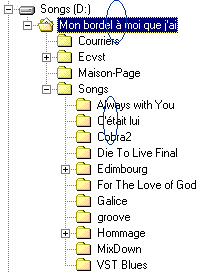 Bad example !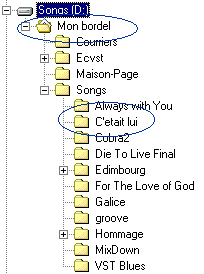 This room is kept tidy !
Jean-Luc MAILLER, on the 01-03-2000
---

Page viewed 6813 times