You're here : Cubase >Learning

---
Before tackling the in-depth subject, I want to point out something, a detail...
Steinberg seems to put everything into the work on line now in time ! The latest manoeuvre : a free version of cubasis VST but which makes it possible to save our work only on the Rocket server !
It made us smile because L'Espace Cubase did Rocket Network before Steinberg ! Indeed the VST studio was born at least one year before the online Steinberg?s studios ! Ok, but with small help and not on line, as it is the case with Rocket Network but nevertheless, Charlie, if you read us, we thought about it before you ;op
---
Passed this, we will be able to pass to serious things. We will try to explain what is Rocket Power and how to use it.
Let us see the question of vocabulary ! Rocket NetWork is the name of an independent server of Steinberg. Other software can be connected to it. It?s meaning, if I understood, is to centralize the data. InWire, it?s the Steinberg?s technology which enables him to interface their ?sequencer? with the rocket server. These tools make it possible to musicians to work together on Internet. The guiding principle is simple : the musicians connect themselves on the server, which will centralize the work of each one and redistribute it to all the participants. Everyone works on the same ?song? but remotely. That?s great, isn?t it ? Don?t worry ; we don?t chuck out Audio 24/96 files on the Web. As for our VST Workshop, we compress it in MP3 format at the beginning and we decompress it at the arrival ! Everything is clear . Audio quality loses there a little, of course.
For the toolbox, you need :
The Rocket Control version 2.3, you can get it on

Cubase.net

At least : Cubase 5.0R2 version or a Cubasis 2.0 version. Rocket Control also works with others sequencers.
---
How does it work ?

Did you notice the Li?le in button on the right-hand corner of your Arrange Window ? It called Rocket Power ? Another name ! Don?t worry, it?s the same! Click on it while you?re connected on Internet and the process will start! You will have opened an account before on Cubase.net (follow the link above Inwire Studios). Enter your login and your password :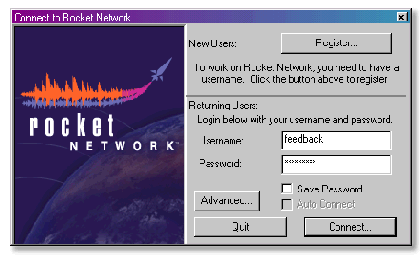 Two things will happen. The Rocket Control starting and a Web page will open :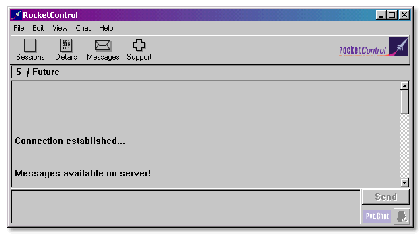 Rocket Control
Home Page
The welcome page lists all the public studios which are opened. Their access is free. You also can rent out a private studio but you have to pay ! When you have chosen a studio, just click on ?GO? and you will join the musicians who are connected on the same studio as you. Cubase will ask you if you want to load the ?song? in process. Like you?ve been here just for that, click on ?yes? !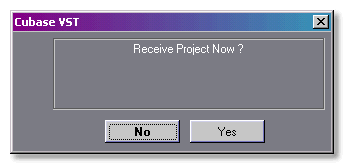 The first time, while you?re loading the ?song? you can make a few adjustments on the menu Modules/ Rocket Power.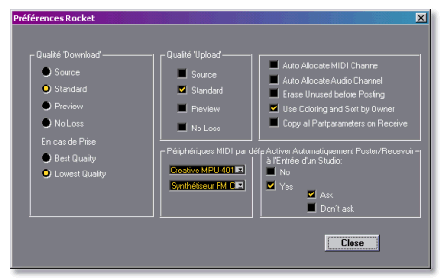 You can notice, as it was the case for the last picture, that the Cubase translation isn?t ended yet !
Ok so you?ve have received the products from your Internet friends, suddenly your screen brings up date, Parts are appearing, that?s crazy ! Go on, record your part, Audio or Midi. When you?re sure that you?ve got the right part, click o Post which is near the Rocket Power button. Your friends will get your work as you got their works !
I suppose that you can imagine all the possibilities of this kind of system ! In short, I want to advise you :
For the first times, go ahead with one or several friends to take your first steps, although some technicians are present to help you

If you have only a modem, even a 56K, do not dream too much. Even compressed, one minute of music in mono way can weigh several Mo. No safety without ADSL or cable

About MIDI, rather use Universal Sound Module from Cubase 5, so that all the participants can have in return the same sound.
A thing is nevertheless frustrating. For those who don't know anything about English, it should be recognized that they will be quickly lost. The module, its handbook and the Website are of course in this language. Not easy. Charly ? Can't you make a little effort for the little guys who opened the VST Workshop one year before Rocket Network ? ;op
Pascal VALENTIN, on the 29-03-2001
---

Page viewed 10965 times