Analog synth, sampler, drum machine, REX loop player, mixer, effects, pattern sequencer, and more. As many of each as your computer can handle. Reason is an infinitely expandable MIDI studio on a CD-ROM, complete with its own realtime sequencer.
All the power of hardware, but without the hassle. Forget tripping on cables. Reason doesn't need dusting. Picking up where you left off is as simple as turning the power on. When you save your work, your whole studio setup is stored along with your music. You can even include actual samples, loops and drum kits in the file, for easy web publishing or email distribution to other Reason users. For once, total recall is truly total.

Each unit in Reason's virtual rack is edited from its own on-screen front panel. All the sliders, knobs, buttons and functions of the equivalent hardware are there. But more importantly, on several counts, Reason is better than hardware.
Need another piece of gear ? Forget your overdraft and save yourself the bus fare to the music store. Choose what you need from the Create menu, and it appears in your rack, logically patched into the signal chain. If you ever wished you had eleven samplers, Reason is definitely for you.
Don't like the routing ? Press the Tab key, and the rack will turn over, revealing inputs, outputs, CV and Gate connections. Use the on-screen patch cords to set up complex routings and cross-device modulation patches. And if you run out of mixer channels, just create another mixer.
The studio of your dreams is just a few mouse clicks away.
For more information please see www.propellerheads.se/x-home.htm.
---
PPG WAVE - VIRTUAL STUDIO INSTRUMENT FROM WALDORF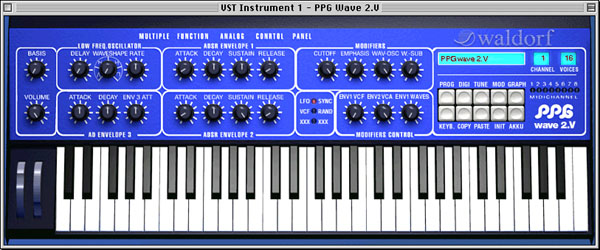 First there was the Model-E, then the Pro-Five; 2 incredible emulations of classic analog synths which are taking the MIDI world by storm. The latest member of the Virtual Studio Instruments family is the unbelievable PPG Wave. The PPG Wave 2.V is the reincarnation of a cult, which started back in 1982 and will be available soon as a VST Instrument for your PC and Mac VST system.
The Wave 2 series was the first digital wavetable synthesizer with analog filters, heralding a revolution in both sound and concept. The Wave's most interesting feature was its ability to sweep through 64 waveforms in what PPG called a wavetable.
Now Waldorf the leader in wavetable synthesis - brings this exclusive sound back to life with all the advantages a completely integrated software production environment such as Cubase VST has to offer: The outputs appear directly in the VST mixer, so effects and EQ can be applied like any other audio channel.
MIDI tracks are routed directly to the input of the PPG Wave 2.V without involving the vagaries of MIDI cables and interfaces. The polyphony now depends solely on the CPU power of your computer and opening up to 8 PPG Wave 2.Vs, each with 8 times multitimbral capability, gives you more than enough space for your sound imagination. A new graphical page offers easy editing of envelopes, generators and Cutoff/Emphasis.
The combination of modern software technology plus the charm and massive sound potential of the "old" digital days results in a unique instrument which brings back individuality and pure fun: The PPG Wave 2.V. Canadian price and shipping date are to be announced.
---
TL AUDIO EQ-1 - VST EQ PLUGIN
EQ-1 is the product that originally redefined affordable valve technology, and six years later it boasts thousands of users worldwide. Now TL Audio brings that classic rock solid Equalizer to the digital domain and makes it available within your VST PC and Macintosh or PC Direct X system.
La force de l'EQ-1 se trouve dans sa simplicité. Chaque bande offre un choix de 4 fréquences sélectionnées avec attention, lesquelles combinées avec des pentes douces et des courbes larges donnent à l'EQ-1 un son immédiatement chaud et musical. Il suffit de sélectionner une fréquence et de l'atténuer ou de l'amplifier. Les résultats sont immédiats et étonnants.
The EQ-1's strength lies in its very simplicity - each EQ band offers a choice of four carefully selected switched frequencies, which combined with gentle slopes and broad curves give the EQ-1 an instantly warm, musical sound. Simply select a frequency then cut or boost it - the results are immediate and stunning! Vocals, keyboards, guitars and basses are all enhanced by the EQ-1, and overall mixes can be sweetened and shaped quickly and effortlessly. Ideal for adding warmth in a digital environment, or for bypassing a bland solid state console EQ. EQ-1 features a graphical display for easy and fast control of the frequency response and its parameters are automatable for creative filter movements.
The combination of modern software technology and TL Audio's proven experience in valve sound results in a flexible Plug-In with all the advantages of digital audio systems, whilst still providing the classic valve sound with its gradual overdrive characteristic. TL Audio quality for your VST System !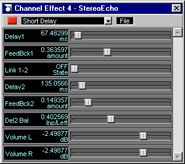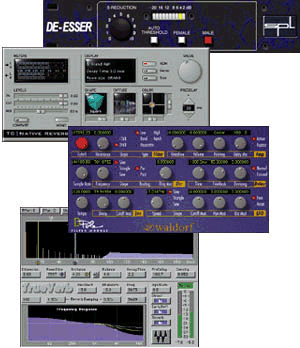 ---
Believe it or not, that's not even all the news from NAMM! In addition to what you've just read about, Steinberg has everything from an LM-4 sample CD-ROM, the Rocket Powered Cubase for jamming over the internet and even a few more special announcement. For all the news, check out :
Translation into French : Olivier MALHOMME, on the 14-02-2000
---

Page viewed 14308 times