You're here : Plug-ins >Users Opinion

---
This article was first written for Keyboards / Home Studio. magazine. It is published here with their kind authorization, thanks ,o)
---
PSP are a Polish editor specialized in effect plug-ins and who already have some success with their Lexicon PCM 42 and 84 emulations or else with their Mastering tools like Vintage Warmer. PSP have just presented on the market two new products, a Reverb and a parametric Equalizer. Let's see if their saying « not expensive but efficient » holds its promises...
---
Before detailing that new Reverb again, it must be specified that it costs 69 $US only. The proverb according to which you have for the money that you want to give being still valuable, you won't have to expect to have here at your disposal a high quality-made Reverb.

EasyVerb is thus a VST, DirectX plug-in for PC a VST one for Mac OSX. When you will read those lines, the RTAS PC and RTAS Mac, AudioUnit Mac OSX versions would be available. The software is sold in download only and is released with a PDF manual very complete but in English.

EasyVerb proposes a single interface and, let's admit it, not very pretty. It groups the 11 available adjustments. The Reverb is based on 9 algorithms, Ambiance, Room, Chamber, Club, Hall, Arena, Cathedral, Spring and Plate. Then, each algorithm corresponds to the shape of a room, depending of the sonorous source and of the mikes in the designed room. Those algorithms are very credible and offer the result you can wait for, with a flat for the Spring which we'd rather like, let's say, much sssbbouiiiiiinnnnggg ! I understand myself !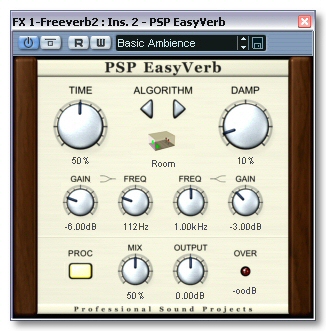 After the indispensable Damp setting, come two parametric equalizations which act respectively from 25 to 10.000 Hz and from 50 to 20.000 Hz. Here again, the adjustments are efficient but a factor Q would be welcome, the story doesn't tell which is its default value.

Then, EasyVerb proposes a ByPass which utility is not shown as soon as the host sequencer has got such a function at disposal in the Plug-ins management.

To end, you will find a Mix adjustment which will ensure the balance between the processed signal and the primary one, Dry/Web for English-speakers, and a button for the main level output. To be noted the littl' LED if the output overdrives, nice initiative.

The essential question is : how does it sound ? Well, not badly for such a software of this price. I've tested it on various sonorous sources, drums, bass, guitars, voices etc. In all cases, EasyVerb pulls through more than creditably. Its advantage is that it proposes to the user, particularly beginner, some reverbs made of correct quality without being obliged to study a manual of 200 pages and as many parameters which require some solid knowledge in Audio processing.

I had only one regret : the evident absence of a Pre-delay adjustment. Indeed, this parameter which makes it possible to softly decay in time the processed signal compared to the original signal, so that this last one can stay perfectly understandable, is to my opinion particularly essential on a voice.

In short, for 69 $US, here's a Reverb with some correct performances despite of its few weaknesses, of which the parameters are all automatizable and which doesn't request a doctorate in Audio processing to be used immediately. Young DAW-boys and girls, EasyVerb is maybe for you !

A last thing and the competitors should follow the example : the Plug-in is released with 51 presets fully usable and is available in demo version on the editor's site.

See ya soon, here or somewhere else ,o)
---
Pros : the price, the easiness of use, the low CPU use, the creditable sonorous quality

Cons : no pre-delay, the ugly interface
Description
Name : EasyVerb
Type : Reverb Plug-in
Format : VST and DirectX for PC, VST for Mac OSX at the date this article is written
Editor : PSP AudioWare
Website : http://www.pspaudioware.com/
Algorithms : 9
Filters : low-pass and high-pass
Frequency resolution : up to 96 kHz
DPresets : 51 released
Price : 69 $US
Recommended configurations
Mac : Mac OS X 10.1 or higher, VST compatible host, G4 1 GHz (G5 recommended), 512 MB de RAM, graphic display 1024x768

PC : Windows 98 or higher, compatible VST or DirectX host, 512 MB of RAM, Pentium III 1 Ghz (Pentium IV 2 Ghz recommended), graphic display 1024x768

Pascal VALENTIN, on the 24-04-2004

---

Page viewed 8167 times