You're here : Plug-ins >Users Opinion

---
This test was first written for Keyboards / Home Studio magazine. It's published here with their kind permission, thanks ,o)
---
At the end of 1999, Steinberg released one of the first virtual rhythm boxes, LM4. The success encountered implied a major update had to be offered. Because if LM4 seemed to be innovatingwhen it was released, its limitations were obvious... Well?
---
Softly redesigned GUI
The installation works correctly, and we can choose where the sound banks will be stored (nearly 1 Gb of sounds are bundled).

The GUI will not baffle those who used the first version, the basic principle remains the same : drum kits despatched on 18 pads (assigned to one MIDI note or to a range of notes), each one can contain 12 samples loaded into RAM and released according to velocity switching.

Each pad has two setting potentiometers : "Volume" and "Tune", about which it is maybe not necessary to describe the role ! Let's add a general volume and a general tune, and that's all for the main interface.
---
New stuff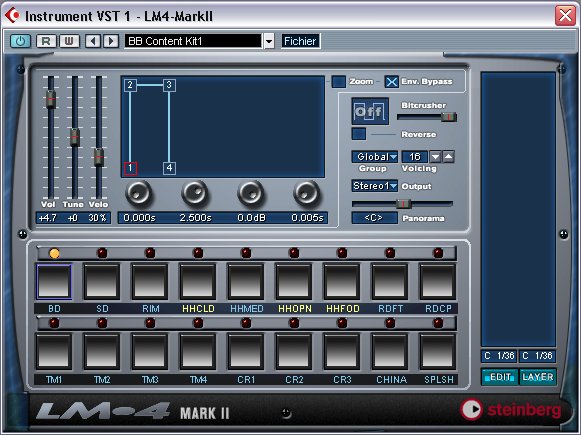 The biggest drawback in the first version of LM4 was that the conception of a personal drum kit could be done either with a note pad or with an external dedicated editor. Those who moaned after this lack of ergonomics will be happy to learn that the two new buttons "edit" and "layer" - if of course they can be used to modify an existing kit - are especially there to easily create a kit.

In a first time, in the "layer" part of the LM4, we will assign samples (maximum resoluton 32bits/96kHz) to the pads simply by drag-and-dropping. Still with the mouse, we will then assign a velocity range to each sample and a MIDI note (or a range of notes) to each pad. Dead easy!

The "edit" part will allow you to modestly edit the behaving of each pad. We can set volume, tune, velocity, and use a very modest amplitude enveloppe (ADSR). A system of group and "voicing" allows you to assign a pad to a group and to define the maximum polyphony for this group. The aim ? Preventing open HiHat sounds from sounding at the same time as closed HH sounds for example.

This "edit" section also offers the "Reverse", "Bitcrusher" (degradation of the sample !) and "Pan" functions. We can also choose between three stereo outs or six mono. Three stereo outs can seem to be a bit short when using it.
---
The sound
The audio quality will of course depend on the quality of the sound banks being used. The kits bundled with the program are of very good quality, most of them made by Wizoo. We could possibly regret their too clean aspect. Anyway, the offered kits are very credible and can largely be exploited. We can also notice that the LM4 MKII can import LM4 or LM9 soundbanks and that kits from the first version are on the CDs.
---
Finally
LM4 MKII corrects the first version's mistakes of youth by offering a simple and ergonomic edition of a drum kit, there is its main interest. LM4 MKII is easy to use for the one who is only searching for a good drum-sample player, with some parameters to edit. On the other hand, the one who is an adept of sound torture and filtered loops, will rather get the main opponent: Battery.

See you later, here or elsewhere...
---
Pros: ergonomics, easy to use and creation of the sound banks, quality of the bundled banks.

Cons : Sound banks a bit too clean depending on your taste, but of good quality, limited editing possibilities, we would have liked more stereo outs.





Minimum configuration :

PC : Pentium III 300 MHz, 64 Mb RAM, 128 or more recommended, Windows 98/2000/XP
MAC : G3 300 MHz, 64 Mb RAM, 128 or more recommended, Mac OS 8 ou 9




Price: 189 €uros TTC for the basic version and 239 €uros TTC for the XXL version, bundled with more kits.
Pascal VALENTIN, on the 17-02-2003
---

Page viewed 8361 times