You're here : Plug-ins >Users Opinion

---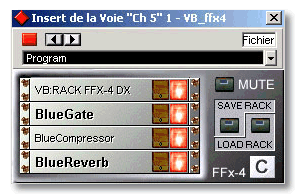 Imagine the situation: the mix is on the way, but there is no place to add to your guitar solo this small delay or the little reverb which will relegate Steve Vai to the rank of amator! You are working with a small software, as Cubasis, which does not allow the insertion of several plug-ins in one track ? Weel, you will have to pre-mix your tracks to more seriously treat them, that is to say : make compromises... as with your 4 tracks tape recorder, do you remind ? (I do !). Fortunately, here is the solution : VB FFX4.
It is a little VST DirectX plug-in, the copy of a rack as we can find in our studios, with the usual graphic elegance of Vincent Burel! As you will have understood, all the interest of this rack is that it will enable to insert additional plug-ins! In this full version demo, you can insert up to four DirectX ones.
I am thinking of users who have few insert possibilities, which is my case, because this plug-in totally changes the sound treatment approach, offering choice and flexibility: from one insert per track we will go to minimum 4! Yes, you've read correctly "minimum": as it is available at the DirectX format, it is possible to insert a rack in another one! You can imagine all the possible combinations... A simple click in an empty place opens the plug-in list, a double click opens the interface for the settings. So you can go on importing your favorite presets, this plug-in is totally transparent.
But that's not all:
It is possible to change the place of the plug-ins in the rack with a simple drag and drop, so without changing the previously done settings! Nothing better to mosten to your famous small delay before or after the little reverb... Moreover, every plug-in and its setting, or even an entire rack can be copy/paste from the one to another.
Every unit can be independently muted and we have a general mute for the whole rack. On the other hand, we can only hear one unit in solo. We can also save racks configuration, to the .rck format, very handy presently because each track is treated by an eq and a compressor, or to have a personal sound quickly available. We will find it useful for the send effects, it functions in the same way.
I cannot reproach anything to this plug-in, it is so precious to me. On the other hand, I regret it does not manage VST format. :op Vincent's comment about VST Plug-ins....
Go download this free version on http://www.vb-audio.com and exploit it! The richest of you can buy the full version with 16 effects per racks, and many other options (in/out vu-meters for example). Waiting for this, let's thank Vincent Burel. A must have!
Cédric, on the 20-02-2003
---

Page viewed 14695 times