In this example configuration we are going to use the utilities provided by Bill Gates. It?s often quite possible to use the software bundled with your soundcard for the same things, but here we are sticking with Windows 9x.
There is a
in the bottom right-hand corner of the screen, in the taskbar. If you double-click on it you?ll bring up the Windows Mixer. It is there that you decide what goes in and out of your sound card. If set up correctly, Cubase will capture everything which passes through this mixer.
Firstly, you are going to mute certain input channels, notably the microphone and the Line in. Once you have double-clicked on the little speaker, speaker icon in the system tray and launched the Windows Mixer, place a tick in the Mute pour que cette tranche ferme son clairon ! checkboxes for the above mixer channel strips but be careful not to mute the Wave or Midichannels. If necessary you can come back to the Windows Mixer later and adjust the different volume levels

Next you must do the same thing for the signal going into Cubase. Here, Windows 9x obliges us to juggle. Select Properties, from the Options drop-down menu and click next to Recording. Now clicking ?OK? will bring up the Recording Mixer. Simple, huh ? Are you with me so far ?

Here, it?s the opposite, you don?t mute anything, you enable ! What logic ! That will make it possible for Cubase to digitise any signal you present to your soundcard?s line in. At the very least you must enable the Line-in by placing a tick in its checkbox. You could, for instance, connect an outboard mixer to it. You may also want to enable ?CD-Audio? for ripping extracts (be aware though, that is piracy), or ?Midi? for sampling the midi output of your soundcard. Usually you will only want to do this when you want to record all sound sources and perform an internal mixdown in Cubase for burning to CD.

And here, in parenthesis :
If you use a Soundblaster AWE 32, 64, PCI512 or Live, it still won?t work properly in Cubase yet. Cubase can?t use the ?Creative WaveSynth? or the ?Creative Mapper?. Why ? Don?t ask me ! In the Cubase program group in the Windows Start Menu there is an applet called ?Setup MME?. Launch it and deactivate both the ?WaveSynth? and the ?Mapper?. If you don?t, Cubase won?t start. It?s an obstinate beast !
End of the parenthesis. And if you now launch Cubase... OK? Are you with me so far? Good.

There?s a bit of configuring to do in Cubase too. Go on, select , System frem the Audio menu. you have to configure Cubase to function with your particular soundcard. We are going to assume that you are using Version 3.55 of Cubase VST. If not you can get the latest version from the Steinberg site. That version is quite easy to configure and is the first version I had that will finally work properly with the SB AWE64 Gold. Click on

.
All you have to do there is select a configuration preset, simple !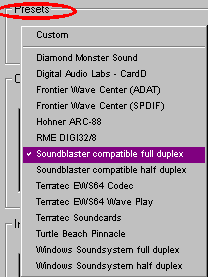 If you?re in luck your soundcard is listed. If not try either the Soundblaster or Windows Sound System presets. With that one click you avoid setting up loads of parameters! Click ?Yes? and ?OK? when Cubase asks. Now, fingers crossed, you should be ready to record your first track.
---
Next, we record. But before that, defragment your hard disk(s). Start / Programs / Accesories / System Tools / Defragment.
Until then, stay connected !
Pascal VALENTIN, on the 06-03-1998
---

Page viewed 7908 times